Location Our Static Caravan Park In Cumbria
Woodside Caravan Park is an ideal base from which to explore the Lake District and the Scottish Borders.
Greystoke: Greystoke is a quiet village which still has its small central greens, ancient market cross and many listed buildings, including the castle (right) and the ancient church of Saint Andrew where an art and craft exhibition is held 2 or 3 times a year serving home made lunches and teas. The village is also home to the famous G.W. Richards' racing stables, now run by his son Nicky. (Right: Greystoke Castle)
Approximately 1 mile from Greystoke is Greystoke Gill where you will find an art gallery and antiques.
Also nearby:
4miles away – Rheged named after the Ancient Kingdom of the Dark ages, Rheged is the newest and the largest visitor attraction ever to open in Cumbria. (see photo gallery)
5 miles away – the old market town of Penrith has a superb mix of old and new shops
6 miles away – the tranquil shores of Ullswater and the Lake District. (see photo gallery)
10 miles away – the village of Caldbeck, home of John Peel
13 miles away – the Lake District town of Keswick with nearby Castlerigg Stone Circle (see photo gallery)
Carlisle: The historic city of Carlisle is 18 miles away and has lots to offer people of all ages including a fine medieval castle which is one of many where Mary Queen of Scots was imprisoned. (see photo gallery)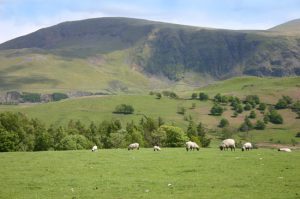 Golf: A 9-hole golf course and driving range is to be found on the outskirts of Penrith or two 18-hole golf courses within a 20 minute drive. (right)
Walking: Lakeland Fells – we are situated close to many of the Fells including Carrock Fell, Saddleback and Great and Little Mell Fell. For those who want something a little less strenuous there are many, easier walks on public rights of way.
Click HERE to view our Photo Gallery
Woodside Caravan Park in Cumbria
Greystoke, Penrith, CA11 0TJ ~ Telephone: 017684 83253 or Mobile: 07895 426296